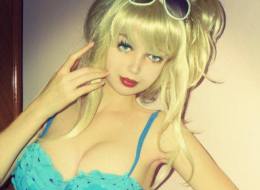 Lolita Richi
There is a "human Barbie" so extreme in her aesthetic views that she believes all women should perfect themselves though plastic surgery or otherwise.
Lolita Richi, 16 and from Ukraine claims she has never undergone plastic surgery.
But she says that just because she hasn't gone under the knife doesn't mean you shouldn't....
"All women should be well-kept and immaculate... If a girl doesn't have beautiful eyes then they should wear contact lenses to sort it out. If they have a crooked nose, then she must do something about it, whether that's plastic surgery or not," Richi said, according to the Mirror.