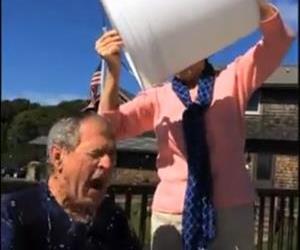 CLICK BELOW TO WATCH VIDEO:
Former President George W. Bush didn't really want to have a bucket of ice water poured on his head. "I do not think it's presidential," he said in a video posted today on
Facebook
. He opted to write a check, but wifey Laura Bush had other plans.... She sneaked in with a bucket of ice water and the rest is....well, history!
"That check is from me. I don't want to ruin my hairstyle," she said.
Bush has passed on the challenge to Bill Clinton, saying "yesterday was Bill's birthday and my gift to Bill is a bucket of cold water."
Bush was challenged to join the cause by several people, including daughter Jenna Bush Hager, CNN reports. President Obama has written a check to an ALS charity....he's apparently not having a bucket of ice water on his head.
The Ice Bucket Challenge has raised $22.9 million, reports NBC.