Flight MH370: passengers on stolen passports 'not Asian looking'
Malaysian civil aviation chief says men resembled footballer Mario Balotelli, while Thai travel agent says tickets arranged through 'Iranian contact'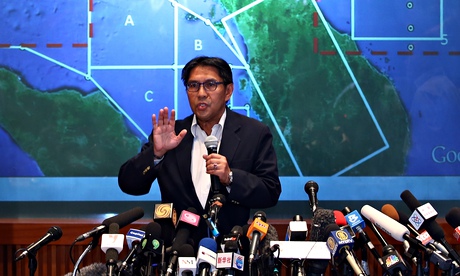 Malaysian civil aviation chief Azharuddin Abdul Rahman told reporters that investigators were unable to determine the passengers' nationalities based on CCTV footage alone. Photograph: How Foo Yeen/Getty Images
Confusion mounted on Monday over the identities of the two passengers flying on stolen passports aboard missing flight MH370 after reviews of CCTV footage prompted a Malaysian official to describe them as resembling a black Italian footballer.
Civil aviation chief Azharuddin Abdul Rahman told reporters in Kuala Lumpur that the men, who had been travelling on stolen Italian and Austrian passports, were "not Asian looking" and may have been part of a stolen passport syndicate.
When prompted by reporters to describe the two men, Azharuddin said: "Do you know a footballer by the name of Balotelli?", referring to AC Milan striker Mario Balotelli, who was born in Italy to Ghanaian parents.
It was unclear if Azharuddin was suggesting that the men were of a darker skin tone or if they did bear any resemblance to Balotelli – who usually sports a mohican and diamond studs.
He later explained that investigators were unable to determine the passengers' nationalities based on CCTV footage alone but added: "I think they are not Asian."
The Boeing 777 carrying 239 people lost contact over the sea between Malaysia and Vietnam on Saturday. No distress signal was sent.
China expressed its mounting frustration over Malaysia's handling of the investigation with the English-language Global Times — a government mouthpiece — saying Malaysia's response "was not swift enough". Beijing has sent 10 officials to Kuala Lumpur to provide assistance.
"This incident happened more than two days ago, and we hope that the Malaysians can fully understand the urgency of China — especially of the family members — and can step up the speed of the investigation and increase efforts on search and rescue," foreign ministry spokesman Qin Gang told reporters in Beijing.
Civil aviation chief Rahman admitted that Malaysian investigators were "puzzled" over how the aircraft was able to just suddenly disappear. Earlier potential leads were dashed after it emerged that the oil slick spotted off the coast of Vietnam was caused by a ship and not an airplane, and the yellow "life raft" suspected to be from the airplane was actually a moss-covered cap of cable reel.
However, another debris sighting, some 50 miles off Vietnam's coast, saw ships dispatched to the area to investigate, as Malaysia said it was doubling its search operations to 100 nautical miles, including parts of peninsular Malaysia, waters north of Sumatra, more of the South China Sea, as well as a section of the Malacca Straits. Some 40 ships and 30 planes, including teams from Thailand, Australia, the US, Philippines, Vietnam, China, Singapore, Indonesia and New Zealand, are currently aiding the Malaysians on search and rescue.
"To confirm what really happened we need hard evidence — concrete evidence," Rahman said. "We have not found anything that appears to be objects from the aircraft, let alone the aircraft."
Although Rahman said no protocols had been breached on the Beijing-bound flight, the Malaysian prime minister, Najib Razak, announced that all air travel security protocols would be reviewed and stepped up if necessary. The FBI is assisting Malaysian authorities in investigating what may have caused the flight to go missing at 1.30am on 8 March with 239 people on board.
In another potentially bizarre twist to the story, the Thai travel agent who booked the tickets for the two men with stolen passports said the purchase had been arranged through an "Iranian contact". The clients were looking for cheap flights to Europe, Benjaporn Krutnait of the Grand Horizon travel agency in the resort town of Pattaya told the Financial Times, adding that a "long-term business contact" who went by the name of Mr Ali had asked her to reserve the flights, which were later paid for in cash by a friend of Mr Ali's.
While there is as yet no reason to believe that Mr Ali, who Benjaporn described as a middleman, knew that the two men were travelling on stolen passports, the revelations are sure to further fuel speculation of foul play as a senior police official told Reuters that passengers armed with explosives and travelling on stolen passports had previously attempted to fly out of Kuala Lumpur's international airport.
Thailand's Prime Minister Yingluck Shinawatra told CNN that Thai police were investigating the identities of the two men as the passports had been stolen from Thailand and were registered with Interpol's stolen document database. "We don't know about their nationality yet. But we gave orders for the police to investigate the passport users," she said.
#theguardian.com